Mortgage loan for buying a home

For individuals when purchasing housing in one of the new projects of residential houses financed by BluOr Bank

Loan up to EUR 300,000

Down payment starting from 10%*
(*5% with Altum support)

Security – the purchased property
Advantages of obtaining a loan in BluOr Bank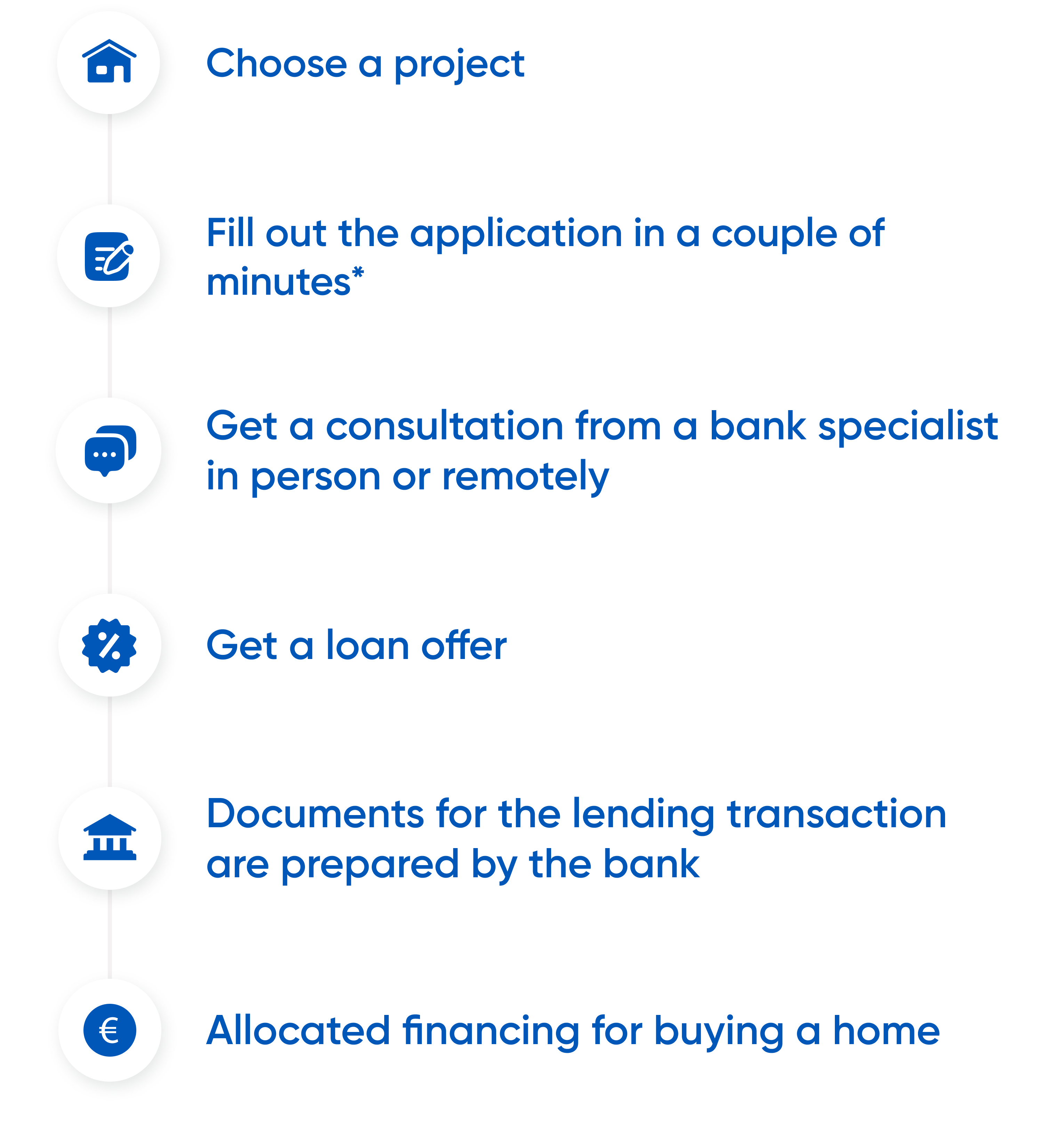 Quick steps to getting a loan

Borrow responsibly, assessing the need for a loan and the possibility to repay it.
* Please provide accurate and complete information in the application so that we can assess your ability to repay the loan and be able to decide on the possibility of granting the loan. If necessary, we will also ask you to provide documents confirming your income and necessary for the evaluation of the lending transaction.
Header
Header
Loan amount
Up to EUR 300,000
Down payment
Starting from 10% *
Repayment term
Up to 30 years
Interest rate
Individual interest rate from 1.9% + 6 m EURIBOR (min. 0%) **
Annual percentage rate (APR)
APR is the estimated total cost of the loan for the borrower,
expressed as an annual percentage of the loan amount ***
Fees
Document review fee: EUR 0.00
Loan processing fee: EUR 0.00
Escrow Account Agreement drafting fee: EUR 0.00


Security
Real estate to be purchased
Insurance
Insurance is required for the purchase of property
Repayment schedules
An annuity or amortization schedule can be used to repay the loan
* With Altum support – pay only 5% of the down payment
** A variable interest rate. The interest rate consists of a 6-month Euribor rate and an individually determined added rate, which is calculated individually, taking into account regular income, existing credit obligations and credit history. Changes in the EURIBOR value affect the size of monthly payments.
*** To calculate the APR rate, please use the calculator below.

Calculate and evaluate your capabilities

Contacts
Smilšu iela 6, Rīga, LV-1050, Latvija

Payment card blocking outside working hours and on weekends
+371 67092555
© 2023

BluOr

Bank AS

. All rights reserved.